Major call for proposals 2020-2023
Sentinel North
Major Call for Proposals - Phase II (2020-2023)
**Submission deadline extended to June 15, 2020**
In view of the extraordinary circumstances faced by professors, research teams, collaborators and partners, please note that the deadline for submission of proposals is extended by 8 weeks to 15 JUNE 2020.
For those who have already downloaded the Call for proposals guidelines or the budget table (Table 11), please note that they have been updated on March 24 to reflect the new planned start date of projects, September 1, 2020. Please ensure that you download and use the latest versions of the guidelines and Table 11. The actual project start date may be adjusted as the situation with Covid-19 evolves.
If you have any questions regarding the Call for proposals, you are invited to read the detailed information available on this page and to consult the Frequently Asked Questions section which will be updated regularly. Questions regarding the call for projects can be sent by e-mail to AAP2020@sn.ulaval.ca.
FAQ
For any questions, please read the Frequently Asked Questions at the bottom of this page, or here.
---
1. Context
In 2015, Université Laval (ULaval) received a major grant from the Canada First Research Excellence Fund (CFREF) to deploy its Sentinel North (SN) research strategy. CFREF's objective is to support the efforts of Canadian post-secondary institutions to implement, on a large scale, forward-thinking, transformational and long-term institutional strategies, enabling them to strategically advance their greatest strengths and achieve ambitious and far-reaching goals leading to international recognition. These institutional initiatives must respond to the Government of Canada's science, technology and innovation priorities.
In a context of accelerating climate change and socio-economic development in Arctic and sub-Arctic regions, the SN strategy allows ULaval to deploy a transdisciplinary approach based on a convergence of strategic research areas in which it is taking national and international leadership: northern and Arctic science, optics-photonics, microbiome, cardiometabolic health, and brain health. The program also supports any other expertise that can contribute to its conceptual research framework and to its objective of improving our understanding of the northern environment and its impact on humans and their health.
A major objective of the program is to encourage the university's research community to break down barriers between disciplines, faculties and departments in order to combine complementary expertise, develop new ideas and conduct innovative research projects to monitor and prepare for the transformation of northern environments using better technologies and intervention strategies towards sustainable health and development.
A first major call for proposals launched in 2016 with an envelope of $15M over 3 years achieved its objective of mobilizing the ULaval research community and its collaborators. The 21 selected projects involve more than 130 professors and research teams from 34 departments of the institution. Funding for these first projects ends in March 2020 (Phase I 2017-2020).
Since this first call, SN has deployed several other research initiatives, such as a call for research chairs, a partnership research chairs program, a research excellence scholarship program, calls for joint proposals with foreign universities, a targeted call for proposals and calls for joint proposals with the Institut nordique du Québec, which have enriched and diversified its research program, which currently supports 10 new chairs and 38 research projects.
2. MAJOR CALL FOR PROPOSALS (PHASE II 2020-2023)
For this second major call for proposals, Sentinel North is seeking transdisciplinary teams that will propose transformative approaches that encourage the convergence of expertise, including the development and deployment of new technologies and mathematical tools (modeling, complex systems), in order to address the research axes and challenges of its conceptual research framework.
Sentinel North's Conceptual Research Framework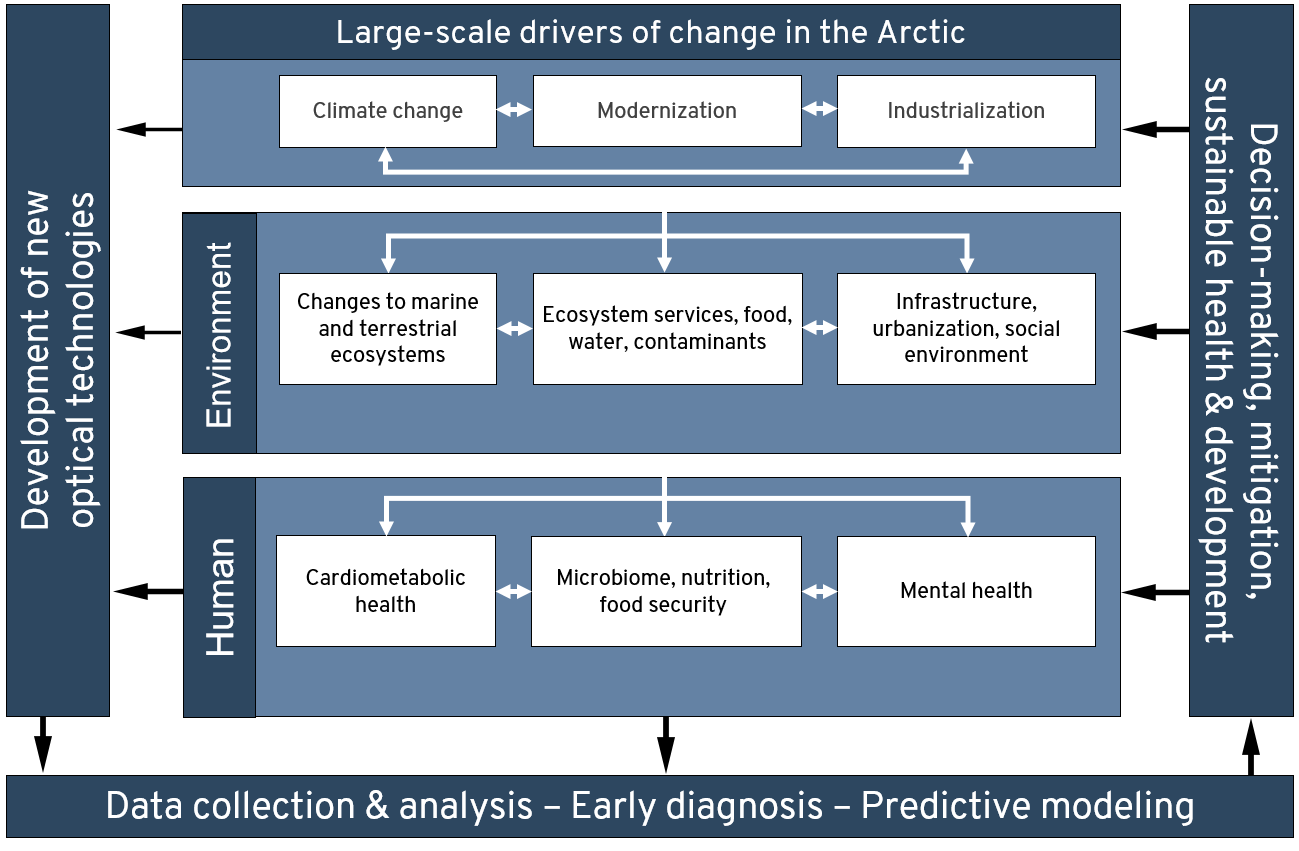 3. PRIORITY RESEARCH AXES AND CHALLENGES
Proposals submitted under this call must necessarily address the following priority research axes and challenges:

Axis 1. Impact of environmental change on northern ecosystems and infrastructure
Climate change and anthropogenic activities are leading to a rapid and unprecedented transformation of the northern environment, with the deterioration of the cryosphere (sea-ice, glaciers, snow and permafrost), degradation of terrestrial and marine ecosystems, and loss of biodiversity, that are affecting the ecosystem services (food, freshwater, raw materials, medicines) and infrastructure (roads, airports, housing, drinking water) on which Arctic and sub-Arctic populations depend.
The main objective of this research axis is to better understand the impacts of environmental disturbances on the ecosystems and infrastructure of Arctic and sub-Arctic regions through the development and application of new tools, in particular from optics-photonics, and new transdisciplinary approaches.

Associated challenges:
Understand the impacts of climatic and anthropogenic disturbances on northern ecosystems and food webs, from microbiomes to large mammals, in relation to climatic, geosystemic (permafrost) and societal (industrialization and extraction) changes;


Continuous, spot or remote monitoring (fibre optics, lidar, UAVs, AUVs, imaging, spectroscopy) of the state and properties of the cryosphere (permafrost, sea ice, glaciers, snow), terrestrial and marine ecosystems and geosystems, ecosystem services (food, drinking water, regulation of climate-active gases) and infrastructure (airports, buildings, roads, dams, pipelines) in the changing Arctic and sub-Arctic regions;


Design northern infrastructures that are better adapted to environmental change and the needs of northern populations (e.g., airports, buildings, homes, roads, pipelines).

Axis 2: Environment-Health Interactions in the North
Arctic and sub-Arctic regions are affected by major changes in the natural environment, the built environment and ecosystem services (e.g., microbiomes, drinking water, air, food, light, housing, living conditions) that have direct consequences on the cardiometabolic and mental health of circumpolar populations.
The main objective of this research axis is to better understand the complex interactions between environment and health in Arctic and sub-Arctic regions through the development and application of new tools and transdisciplinary approaches.

Associated challenges:
Understand the links between the northern environment (food, microbiomes, light cycle) and health, including societal chronic diseases (e.g., cardiometabolic, respiratory) and mental health;


Understand the interactions between the gut microbiota and mental health (gut-brain axis) in a northern context;


Understand the links between the built environment (human-made or human-engineered) and health in a changing North;


Ensuring food security and healthy eating in Arctic and sub-Arctic regions.

Axis 3: Data Analysis, Predictive Modelling and Knowledge Transfer
In order to exploit the data flows acquired over a wide range of space and time scales, including in the form of valuable time series for health and the environment, it is necessary to develop new approaches and strategies for data analysis, including the use of artificial intelligence, which will make it possible to deploy methods for diagnosis, predictive modelling, detection and early warning.
The main objective of this research axis is to optimize the analysis, mobilization and transfer of research results towards sustainable development and health in Arctic and sub-Arctic regions.

Associated challenges:
Produce projections of the future state of the coupled human-environment system under various climate change and modernization scenarios in Arctic and sub-Arctic regions;


Design and validate systems for civil and environmental security (Situational Awareness System) and observation of northern ecosystems;


Develop and apply collaborative approaches to optimize the mobilization and transfer of research results to northern users while taking into account ethical and governance issues.

4. APPLICATION PROCESS
The application process involves the submission of a Project Proposal (PP) submitted using the Guidelines provided in Appendix A. There is no Letter of Intent (LOI) submission process.
It is the responsibility of applicants to ensure that their application meets the Eligibility Criteria (Item 6) and the Evaluation Criteria (Appendix B).

5. IMPORTANT DATES
January 2020 - Launch of the call for proposals
15 June 2020 - Deadline for submission of Project Proposals (PP)
Summer 2020 - Analysis and recommendations on PP
1 September 2020* - Start of project funding

* Note that this date is subject to change according to the evolution of the Covid-19 situation.

6. ELIGIBILITY
Only ULaval professors are eligible for funding from Sentinel North (SN). Eligible researchers must meet the eligibility criteria of the Federal granting councils.


All researchers and teams wishing to apply must submit a new project proposal (PP), whether or not they are already funded by SN.


Researchers and teams not already funded by SN are encouraged to submit a PP.


Researchers and teams already funded by SN can propose a completely new project. They can also submit a PP that is an evolution of a project funded by SN during Phase I (2017-2020), but it must clearly build on results already achieved, present new objectives and encourage the training of new students.


A researcher can be a principal investigator in only one PP, but may be a co-investigator or collaborator in more than one PP.


The duration of the proposed project must be a maximum of three years.


The PP must lead to results with a scope and application in Arctic and sub-Arctic regions, as defined by SN (see map).


The PP must clearly address one or more of the priority research axes and challenges identified in this call (Item 3).


The PPs must clearly meet the evaluation criteria for the SN program (Appendix B).


The PPs must be carried out by transdisciplinary teams involving partners and collaborators internal and/or external to ULaval. Researchers should apply as a team working on a given research theme. SN will not fund proposals led by individual researchers or teams from a single department or research centre. SN is not a substitute for individual funding programs such as NSERC's Discovery Grants Program, CIHR's Project component or SSHRC's Insight Program.

7. ADDITIONAL CONSIDERATIONS
The participation of early career researchers as Principal Investigators (PI) is strongly encouraged. For the purposes of this call, an early career researcher has held a university professor position for less than 10 years.


The active participation of collaborators and partners external to ULaval from the Nordic, academic, public and/or private sectors is strongly encouraged.


Valuing equity, diversity and inclusion, SN invites all qualified individuals to submit proposals, particularly women, members of visible and ethnic minorities, Aboriginal people and persons with disabilities.


Priority will be given to proposals that can demonstrate cash or in-kind funding contributions, other than those provided by the federal granting agencies. Contributions from collaborators and partners must be reflected in letters of support at the time of PP submission.

8. BUDGETARY FRAMEWORK
The total budget available for all projects funded under this major call for proposals is approximately $10 million over 3 years.
The total envelope over 3 years allocated to each project may vary from a minimum of $225,000 to a maximum of $750,000 depending on the size of the project. We expect to finance between 15 and 25 projects.

9. EVALUATION PROCESS
SN wants to ensure that its decisions are fair and objective and that they are perceived as such. The evaluation will be conducted using the Evaluation Criteria (Appendix B) and the Conflict of Interest Policy (Appendix C).

9.1. Review and Selection of Project Proposals (PP)
The SN Administrative Centre receives the PPs, verifies that they are complete and meet the eligibility criteria (Point 6). The PPs are then forwarded to the Scientific Review Committee (SRC) for evaluation. The SRC evaluates proposals based on the Research Proposal Evaluation Criteria (Appendix A). The SRC may also use external reviewers to evaluate certain proposals.

9.2. Funding recommendations, decisions and notification
Based on the recommendations made by the SRC, the Scientific Directors will present the selected PPs and recommendations to the Steering Committee for approval.
A Notice of Decision is sent to all applicants.
For successful PPs, funding may be subject to certain conditions that will be forwarded by the SN Administrative Centre.

9.3. Terms of Reference and Composition of the Science Review Committee (SRC)
The SRC will provide assessments and funding recommendations to the Scientific Directors and the Steering Committee for the proposals received through the SN call for proposals. The committee's work will be based on a peer review process. The committee will be composed of national and international scientists external to Université Laval, recognized in the research areas associated with the specific challenges of this call and selected in such a way as to limit potential conflict of interest situations related to the evaluation of the applications assigned to them. The SRC may also use external reviewers to evaluate certain applications.

10. INFORMATION
For more information about Sentinel North and this call for proposals, please first consult the Frequently Asked Questions page (also available below). You can also contact the administrative centre at AAP2020@sn.ulaval.ca or 418-656-3090.